Becoming an Electrician
Jun 1
If you're looking for a career in the construction industry, becoming an Electrician could be a great choice. There are many benefits of this profession, and obtaining your license is a great way to start. There are various requirements for obtaining this license. Here are a few things you should know. These include: How much experience do you need? How much training do you need to pass the exam?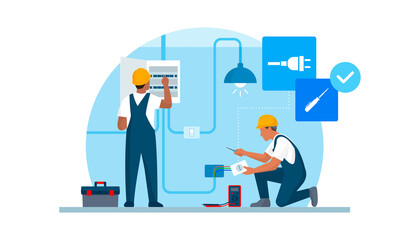 A residential electrician is responsible for installing and connecting all electrical components in a home or business according to local and NEC codes. To do this job, an electrician must plan out the layout of the home and follow all NEC codes. They also must know how to install low voltage cabling, such as conduit and underground PVC before cementing. Another important part of residential wiring is coordinating with other contractors, such as HVAC contractors. In addition, they need to know how to pull MC wire and run conduit, among other jobs.
A career as an electrician is a great choice for those who like working with construction sites and are looking for a steady, stable job. Those who specialize in residential work have the best job opportunities in the industry. An entry-level residential electrician apprenticeship can be found by completing an online 100% course. In addition, there are plenty of job opportunities for residential electricians as these positions offer good pay and career stability. The following is an overview of the educational requirements for this job.
Before beginning work, electricians need to review blueprints to understand where wires need to be connected. They can use voltmeters, ammeters, and other electrical testing equipment to check the wiring. Lastly, master electricians are able to plan, design, and install electrical systems. With this knowledge, you can feel confident that you'll get the highest quality electrical work. So what are the benefits of becoming an electrician?
Aside from a good knowledge of electrical systems, electricians should also be business-savvy. They should be compensated competitively or better than their peers. Because many electricians work as independent contractors, they must have strong business skills. These skills will help you invoice customers, manage inventory, and manage teams of employees. Additionally, electricians who work for contractors will benefit from good negotiating skills. So, how can you become an Electrician?
You can pursue an apprenticeship to become an electrician. This program requires several years of classroom work and hands-on training. On the job site, you will be paid by the hour, and you'll earn forty percent of the hourly wage of a journeyperson. The wage increases as you progress through the apprenticeship program. There are many trade unions that offer advancement opportunities. So, if you're looking for a career as an electrician, this could be the perfect choice for you.
Having your electrical system up and running again is essential if you want to make sure that you're keeping it safe. Electricians perform routine maintenance on equipment so that it won't malfunction. This type of work involves replacing wires and components as needed. They also perform periodic inspections on equipment to catch problems before they cause a complete breakdown. You can hire a qualified electrician if you're having any problems with your electrical system.
Electrical apprenticeship programs typically last four to five years. During this time, you'll learn about the electrical industry, develop knowledge of technical standards, and build your confidence in solving problems. You'll also need good eyesight, good hand-eye coordination, and excellent time management skills. Most apprenticeship programs require that you're at least 18 years old, but not all of them do. Whether you're looking for a career as an electrician or just want to earn a good living, an apprenticeship program can help you achieve your goals.
As an electrician, you'll be working in cramped conditions on power systems and ladders. Depending on your specialty, you may need to spend extended periods of time on your job. Overtime hours can vary, but they're typically not more than forty hours a week. You may also work in the outdoors or indoors, either on your own or with a team of construction professionals. In addition to the physical challenges, you may also have to work in hazardous environments, such as hot and dusty work sites.
If you're aiming for a career as an electrician, you're probably thinking about getting a four-year degree from a technical college. The traditional four-year college degree takes about 5.5 years to complete. Many people prefer an apprenticeship or trade school instead. The electrical field has many benefits, including a competitive salary and an abundance of job opportunities. However, becoming an electrician is not easy. Obtaining your license requires years of schooling, apprenticeship, and documented work experience.
My Electrician Grand Rapids
19 Jordan Street Southwest, Grand Rapids, MI 49548
616-208-4113
Electrician Grand Rapids
Electricians Grand Rapids MI
Grand Rapids electrician
https://www.facebook.com/My-Electrician-Grand-Rapids-105471370906612/
https://www.instagram.com/myelectriciangrandrapids/
https://www.linkedin.com/company/64533060
https://www.pinterest.com/grandrapidselectricians/
https://twitter.com/GrandRapidsEle1
https://www.webwiki.com/myelectriciangrandrapids.com
https://www.todaysdirectory.com/listing/my-electrician-grand-rapids/
https://www.thumbtack.com/profile/services/441934233195724800/
https://www.surfyourtown.com/michigan/grand-rapids/home-services/my-electrician-grand-rapids
https://www.sharingmarketplace.com/grand-rapids/home-services/my-electrician-grand-rapids
https://www.samedaypros.com/service-provider/my-electrician-grand-rapids
https://www.qdexx.com/US/MI/Grand%20Rapids/Electricians/US-MI-Grand-Rapids-Electricians-My-Electrician-Grand-Rapids-My-Electrician-Grand-Rapids
https://www.pavelist.com/michigan/grand-rapids/home-service/my-electrician-grand-rapids
https://www.ourbizdirectory.com/construction/electrician-grand
https://www.osogbo.com/electronics/my-electrician-grand-rapids
https://www.n49.com/biz/4716772/my-electrician-grand-rapids-mi-grand-rapids-19-jordan-st-sw/
https://www.mylaborjob.com/pro/my-electrician-grand-rapids-mi-160280
https://www.mentorhub.info/account/home
https://www.localbotswana.com/company/15419/My_Electrician_Grand_Rapids
https://www.ketaminedirectory.com/michigan/grand-rapids/ketamine-treatment-providers/my-electrician-grand-rapids
https://www.homify.com/professionals/8893516/my-electrician-grand-rapids
https://www.graytvlocal.com/admin/business/4cedae8e-d880-4622-8c20-9c29fd2863fc/edit
https://www.gobestnow.com/directory/listingdisplay.aspx?lid=3173757
https://www.gbibp.com/company/my-electrician-grand-rapids
https://www.fyple.com/company/my-electrician-grand-rapids-i4c62sz/
https://www.fixerhub.com/michigan/grand-rapids/home-services/my-electrician-grand-rapids
https://www.finduslocal.com/local-business/michigan/kentwood/my-electrician-grand-rapids_19-jordan-st-sw/
https://www.facilityaxs.net/michigan/grand-rapids/facility-maintenance/my-electrician-grand-rapids
https://www.dreamhauzz.com/michigan/grand-rapids/electric/my-electrician-grand-rapids
https://www.directorytogoto.com/classifieds/my-electrician-grand-rapids